About Us
We are one of the most well known names in Muscat for its Retail and Wholesale trade since 1964. The company was founded by the visionary trader Mr.Hamad Bin Hamood Al Amri in the old market area of As-Seeb. Right from its simple inception Mr. Al Amri and his Son's made this humble venture as a one of the most familiar household names in the locality with its best value products and product diversity.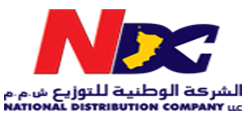 National Distribution Company LLC is currently a Limited Liability Company having multi-million turnover both in Retail and Wholesale business of Food and FMCG category. The company is based at As Seeb Commercial Area, in Sultanate of Oman.
The Company mainly imports and purchase locally and makes Sales, Marketing & Supply, Manufacturing & Packaging of Groceries, Frozen Products, Milk Products, Sanitary and Fitting thereof, Miscellaneous Household Utensils, Fish, Other Sea Foods and Products thereof, Seeds, Fertilizers and Pesticides, Rug & Carpet, Fresh Fruit, Vegetables, Dates, Stationery, Toys and Games, Readymade Garments and Novelty, Food Products and other FMCG items. We offer more than 15,000 SKUs of different varieties of products.
Currently, all of the products used by the company are imported directly from all over the world and are also purchased locally. About Us  almost all of company's products are imported from abroad. The auxiliary items needed by the company are mostly purchased in the domestic market by means of annual trade agreements, and the main region of purchasing covers Muscat and UAE.
Customers across Oman
:

Government Sector
All Hyper Markets
Whole Sale Companies
Catering Companies
Hotels
Restaurants

  Number of Major Customers
:
Above 600
  Sales Terms
:
Generally, 15-day credit is extended to first time clients and those with a short period of cooperation.  long period of cooperation or of good credit standing are usually granted a 30-45 day credit. Additionally, advance are used when necesary.